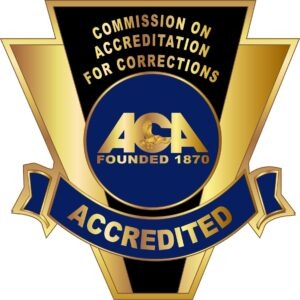 The Arkansas Division of Correction is accredited by the American Correctional Association (ACA). Each of the various correctional facilities and administrative areas within the division undergo audits every three (3) years by ACA, with accreditation currently extended to:
All adult correctional facilities (accredited under Performance Based Standards and Expected Practices for Adult Correctional Institutions);
Work Release Facilities (accredited under Performance-Based Standards for Adult Community Residential Services)
The Central Office / Administrative Annex East (accredited under Standards for the Administration of Correctional Agencies);
Arkansas Correctional Industries (accredited under Performance Based Standards for Correction Industries); and
The Willis H. Sargent Training Academy (accredited under Standards for Correctional Training Academies).
ACA is the oldest, and largest, association developed specifically for practitioners in the correctional profession. Since 1954, ACA has published operational standards designed to enhance correctional practices for the benefit of inmates, staff, administrators, and the public. ACA now publishes over twenty different performance based standard manuals for all areas of the correctional profession. Current Performance Based Standards for adult correctional institutions address the following areas:
– Administration and Management to include;
Facility Administration;
Fiscal Management;
Personnel;
Training & Staff Development;
Inmate Records;
Information Systems and Research; and
Citizen Involvement and Volunteers.
– Physical Plant to include;
Building and Safety Codes;
Facility Size and Organization;
Inmate Housing;
Environmental Conditions;
Program and Service Areas;
Administrative and Staff Areas; and
Security.
– Institutional Operations to include;
Security and Control;
Safety and Emergency Procedures;
Rules and Discipline; and
Inmate Rights.
– Special Management and Restrictive Housing Areas;

– Institutional Operations to include;
Reception and Orientation;
Classification;
Food Service;
Sanitation and Hygiene;
Social Services; and
Reentry.
– Healthcare to include;
Access to Services;
Staff Training;
Offender Treatment;
Performance Improvement; and
Safety, Sanitation, and Offender Hygiene.
– Inmate Programs to include;
Work and Correctional Industries;
Academic and Vocational Education;
Recreation and Activities;
Mail, Telephone, and Visitation; and
Library and Religious Programs.
ACA performance based standards for adult correctional institutions are the measure used by the U.S. Department of Justice (DOJ) to meet, and exceed, the requirements for a constitutional minimal standard of care under the Civil Rights of Institutionalized Person's Act, 42 U.S.C. § 1997 et seq.
ACCREDITATION REPORTS
ADC Central Office l Arkansas Correctional Industries l Benton Unit l Cummins Unit l Delta Regional Unit l East Arkansas Regional Unit l Grimes Unit l Maximum Security Unit l McPherson Unit l Mississippi County Work Release Center l North Central Unit l Northwest Arkansas Work Release Center l Ouachita River Correctional Unit l Pine Bluff Complex l Texarkana Regional Correctional Center l Tucker Unit l Varner/Varner Supermax Unit l Willis H. Sargent Training Academy l Wrightsville Complex
ADC Central Office/Administration Annex East
2020 Report:
Mandatory Standards Score: 100%
Non-Mandatory Standards Score: 99.26%
Arkansas Correctional Industries (ACI)
2022 Report:
Mandatory Standards Score: 100%
Non-Mandatory Standards Score: 100%
Benton Unit
2022 Report:
Mandatory Standards Score: 100%
Non-Mandatory Standards Score: 100%
Cummins Unit
2021 Report:
Mandatory Standards Score: 100%
Non-Mandatory Standards Score: 98.87%
Delta Regional Unit
2020 Report:
Mandatory Standards Score: 100%
Non-Mandatory Standards Score: 100%
East Arkansas Regional Unit (EARU)
2021 Report:
Mandatory Standards Score: 100%
Non-Mandatory Standards Score: 99.8%
Grimes Unit
2021 Report:
Mandatory Standards Score: 100%
Non-Mandatory Standards Score: 100%
Maximum Security Unit
2021 Report:
Mandatory Standards Score: 100%
Non-Mandatory Standards Score: 98.9%
McPherson Unit
2021 Report:
Mandatory Standards Score: 100%
Non-Mandatory Standards Score: 99.8%
Mississippi County Work Release Center
2021 Report:
Mandatory Standards Score: 100%
Non-Mandatory Standards Score: 100%
North Central Unit
2021 Report:
Mandatory Standards Score: 100%
Non-Mandatory Standards Score: 100%
Northwest Arkansas Work Release Center (NWAWRC)
2022 Report:
Mandatory Standards Score: 100%
Non-Mandatory Standards Score: 100%
Ouachita River Correctional Unit (ORCU)
2021 Report:
Mandatory Standards Score: 100%
Non-Mandatory Standards Score: 99.79%
Pine Bluff Complex
2022 Report:
Mandatory Standards Score: 100%
Non-Mandatory Standards Score: 99.5%
Texarkana Regional Correctional Center (TRCC)
2022 Report:
Mandatory Standards Score: 100%
Non-Mandatory Standards Score: 99%
Tucker Unit
2022 Report:
Mandatory Standards Score: 100%
Non-Mandatory Standards Score: 99.1%
Varner/Varner Supermax Unit
2021 Report:
Mandatory Standards Score: 100%
Non-Mandatory Standards Score: 99.3%
Willis H. Sargent Training Academy
2021 Report:
Mandatory Standards Score: 100%
Non-Mandatory Standards Score: 100%
Wrightsville Complex
2022 Report:
Mandatory Standards Score: 100%
Non-Mandatory Standards Score: 99.54%