Welcome to the Division of Correction Willis H. Sargent Training Academy: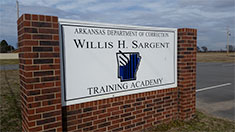 The Division of Correction Training Academy was established in 1980, with a commitment to contributing to the Department's success through quality staff training programs. In 1997, the Training Academy was fully accredited by the American Correctional Association (ACA). The Training Academy is vital to the Correction Division's statutory mandate to establish training programs for new employees and to establish in-service training programs. The Academy is responsible for developing a training curriculum that will produce highly trained, professional, and proficient staff throughout the Correction Division. To ensure this standard of excellence, the Academy is dedicated to the development of curriculum and instructors. The Academy staff and training associates regularly review, update and revise the training curriculum to meet the needs of today's corrections professional.
Uniform Issuance: 501-842-8592
Basic Correctional Officer Training
The Training Academy offers an extensive Basic Correctional Officer Training (BCOT) program that lasts a total of six weeks (240 hours) and lays a solid foundation for career success. Four weeks of the instruction time for new cadets occurs at the Training Academy facility located in England, Arkansas. It is there that the core skill sets required of corrections professionals are taught. Additionally, a total of two weeks of the six-week program are dedicated to "On-the-Job Training" (OJT), where cadets report to their assigned correctional facilities and observe the duties and roles of a correctional officer in the real-world setting. It's during this time that cadets are able to train with a Field Training Officer (FTO) and develop a true sense for what to expect on the job each day. Following graduation, new officers join their correctional family at their assigned facility, but training doesn't stop there. Professional development for staff continues annually for the duration of a career with the Correction Division through select certified, specialized and annual training courses.
Our Mission Statement
The mission of the Training Academy is to instill knowledge and confidence to employees during pre-service and in-service training, providing them with a solid foundation to build a career in the Division of Correction.
In-Service Training Class Schedule
In-service training class schedules are updated regularly on DOC Connect (for employees).
Training Information