How to Address Correspondence | What Can Be Sent By Mail | Unit Mail Procedures | Mail Notice | How to Send Money
How to Address Correspondence
ADDRESS FORMAT:
Inmate's Name and ADC Number
Name of Unit
P.O. Box Number or Street Address
City, State and Zip Code
RETURN ADDRESS FORMAT:
Full Name of Individual or Business
Street Address or P.O. Box Number
City, State and Zip Code
IMPORTANT: Envelopes that do not meet these requirements will be considered contraband.

What Can Be Sent By Mail
All books, magazines, newspapers and catalogs must be mailed directly from the publisher, bookstore, educational institution, or recognized commercial or charitable outlet. No food or care packages may be mailed to an inmate. All incoming and outgoing inmate mail may be read, except for privileged correspondence with the inmate's attorney; federal, state, and local court officials; any administrator of the Division of Correction, Board of Corrections, Post-Prison Transfer Board; and the news media. If properly marked as privileged, the correspondence will be opened, if at all, in front of the inmate and only inspected for contraband.
Unit Mail Procedures
It is the policy of the Arkansas Division of Correction to permit inmates to correspond with family, friends, officials and other significant community contacts with a minimum of interference consistent with the legitimate security needs of the facility; however, the increasing use of illegal drugs has led to the need to limit incoming paper correspondence.
Mail Notice
AS OF AUGUST 21, 2017, In an effort to reduce the introduction of contraband into our facilities, inmates will only receive two sheets of 8½ x 11 inches of copy paper, which will include a copy of the envelope and three pieces of the correspondence on the four-sides of the two sheets of copy paper. Only black and white copies will be made, and no cards, larger size paper, or anything else will be manipulated to fit on the copy paper. Additionally, any general correspondence that exceeds these limits will be treated as contraband. The inmate will have thirty (30) days to pay for return postage or it will be destroyed. Please write all letters in dark ink only (black or blue ink). Do not use pencils or yellow markers because it will reduce image quality. Note the examples below that illustrate copy quality when using ink versus pencil.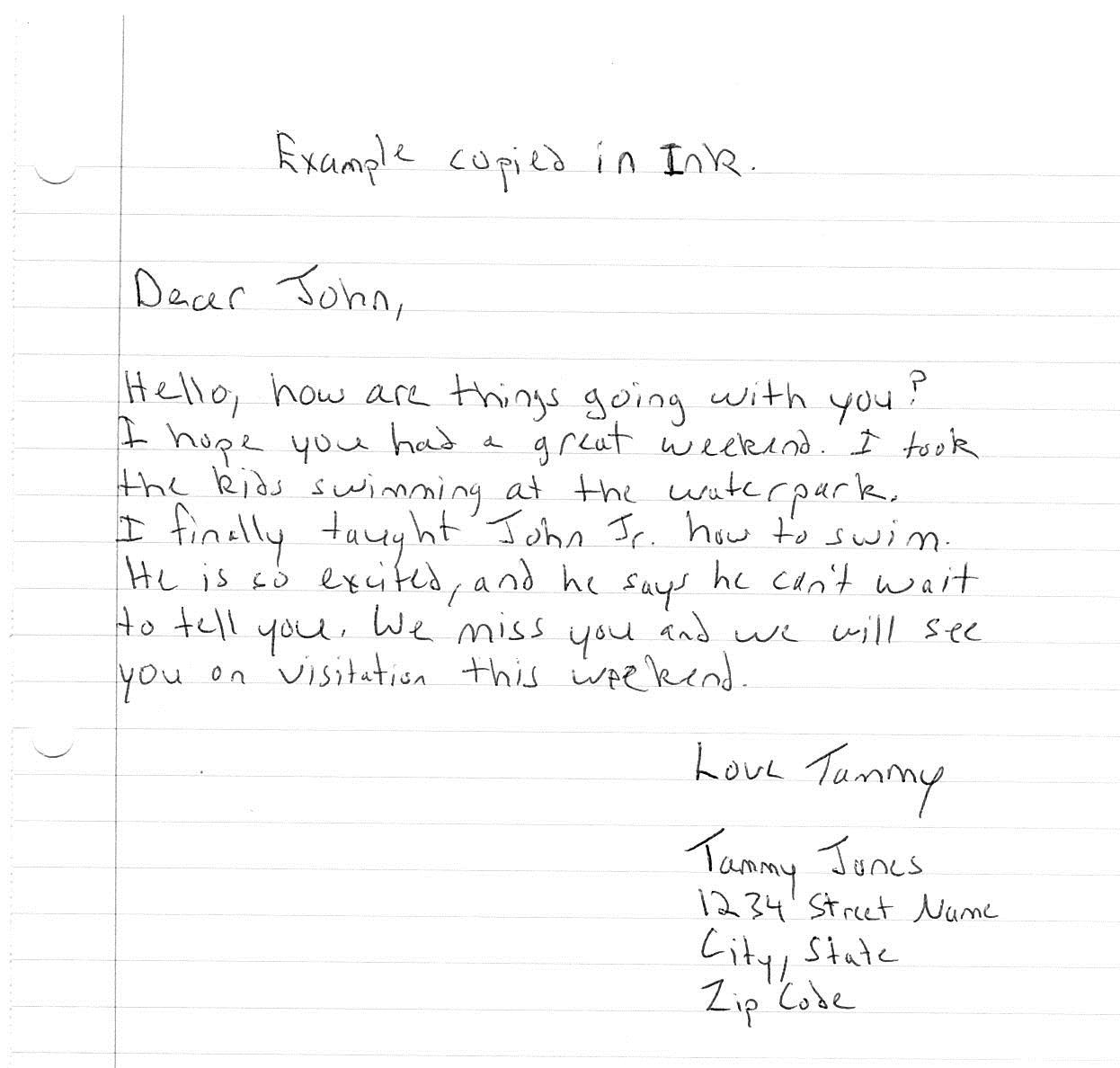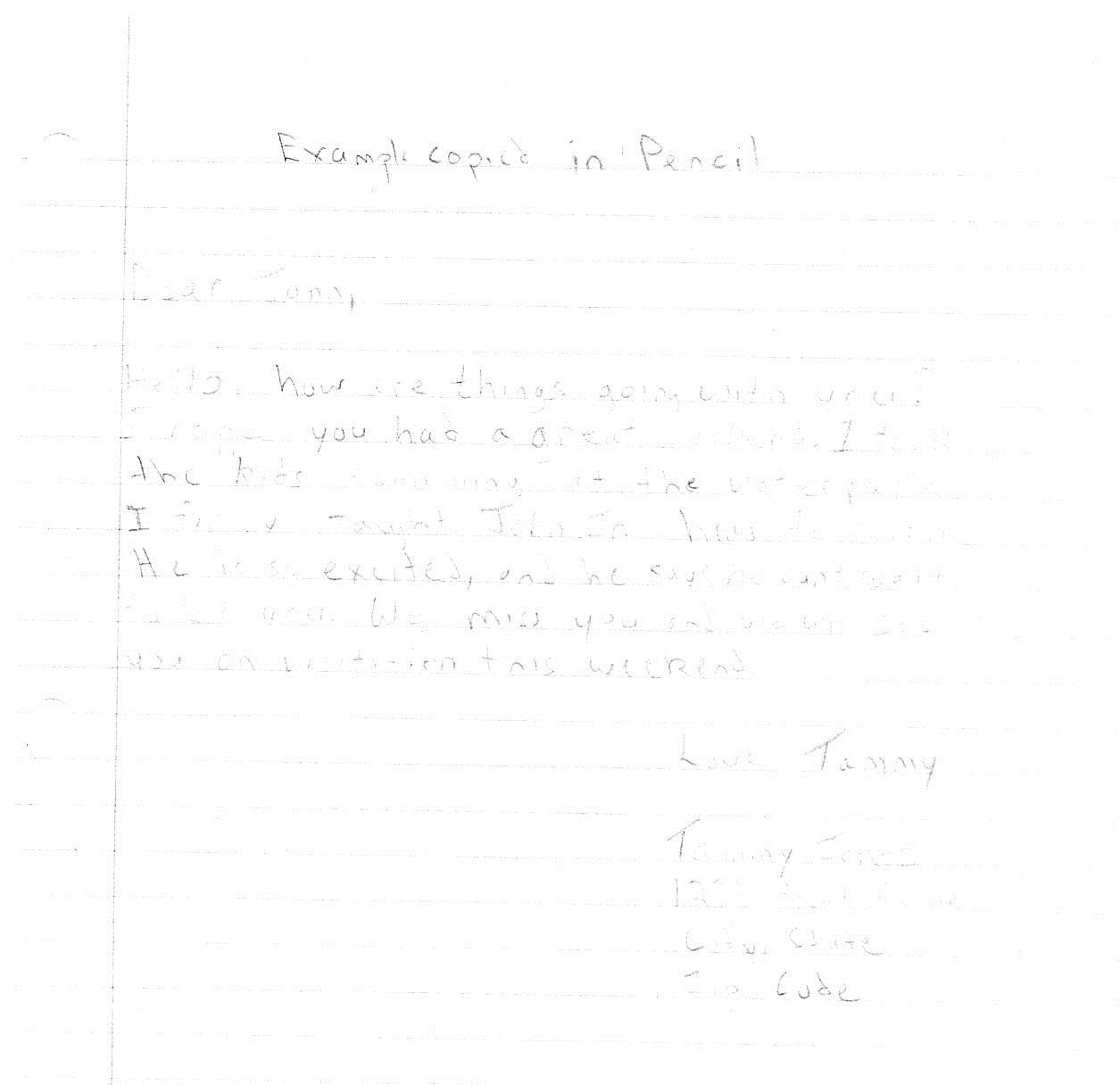 How to Send Money
The Arkansas Department of Corrections is warning friends and families of incarcerated individuals against sending money to inmates through Cash App, Chime, Google Pay, PayPal, Venmo, Zelle, or any other money transfer application not provided by the department.
"This is illegal and a scam," said Division of Correction Director Dexter Payne. "People who engage in this practice could be charged criminally for doing so, and inmates will be disciplined."
Friends and families of incarcerated individuals are required to send money to inmates through one of the three methods approved by the Department of Corrections. These three approved methods are:
• Sending Money Orders By MAIL:
If sending money via mail, you must send it directly to Inmate Banking at this address:
Arkansas Division of Correction:
Trust Fund Centralized Banking
P.O. Box 8908
Pine Bluff, AR 71611
Money orders should be made payable to the inmate's name and ADC number. A "MONEY ORDER DEPOSIT SLIP" must be completed and sent with each money order.
• Sending Money ONLINE:
Family and friends can send money online through our ONLINE INMATE DEPOSIT SERVICE. This method requires a credit card and involves a small processing fee.
• Sending Money By PHONE:
Family and friends may also send money by phone at 1-866-250-7697.This method requires a credit card and a small processing fee.
• Helpful Forms: