Class 2017-F
Class 2017-F graduated the Willis S. Sargent Training Academy on May 26, 2017.
Karen Adkins, Joseph Ashley, Benjamin Barnett, Hailey Bell, Shautau Berry, Carlos Caver, Blaine Coleman, Nicholas Dickson, Cynthia Gomez, Nikia Goodwin, Kilton Hampton, Marcus Harris, Erick Hinton, Deionzell Jackson,Shelby Lackey, Stephanie Leflore, Sa'Davvyan Malone, Robert McAdams, Shaniqua McDonald, Joshua McGrew, Michael Merritt, Brian Scarver, Marquita Seamster, Robyn Smith, Jennifer Stroud, and Alec Wilbur.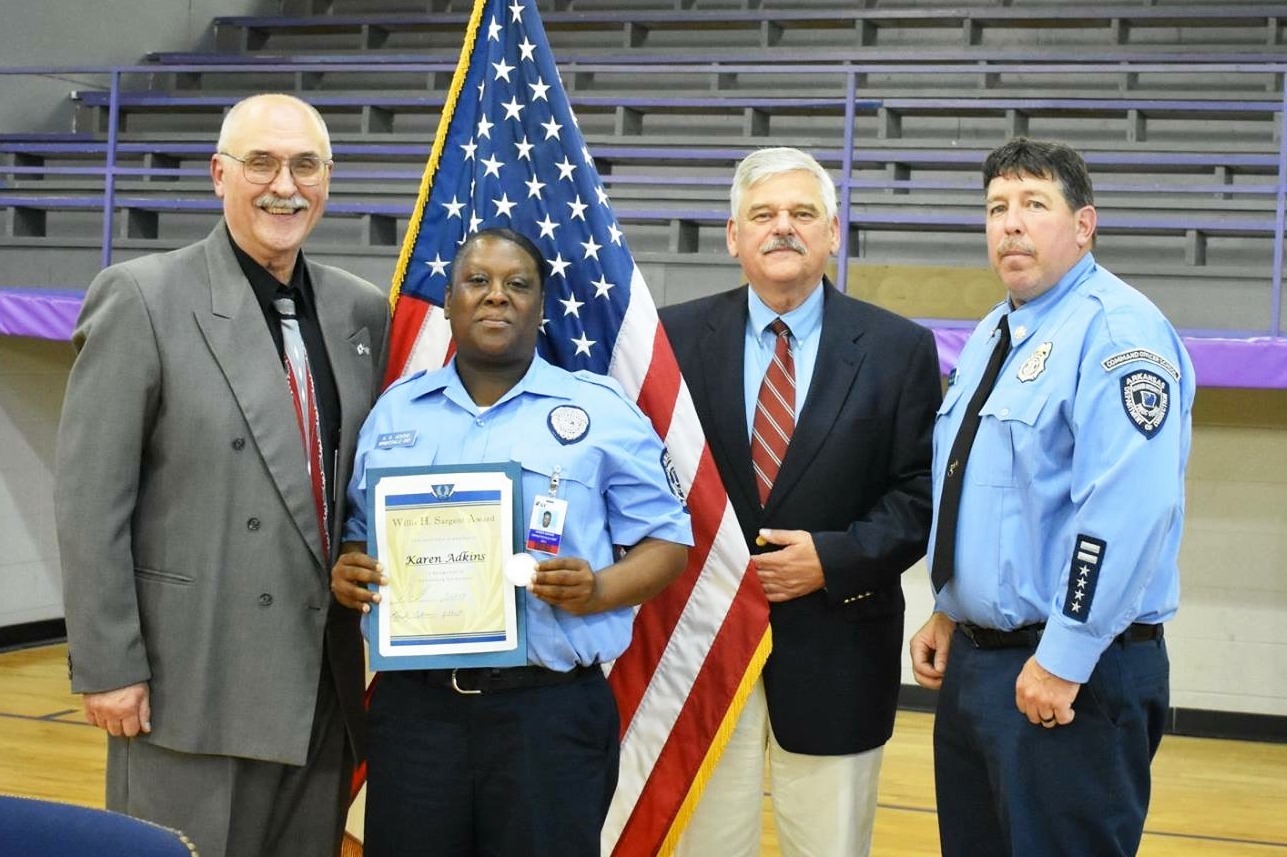 Willis S. Sargent award went to Karen Adkins of theWrightsville Unit. Pictured from left to right are Fred Campbell, Karen Adkins, Mark Cashion and Randy Callas.
Class 2017-E
Class 2017-E graduated the Willis S. Sargent Training Academy on May 5, 2017.
Leticia Beal, Brandon Bretherick, Casey Campbell, Jasmine Dickerson, Mabel Ebot, Gregory Farley, James Garrett, Elieniele Griffin, Derek Harris, Miya Henderson, Amanda Irons, Armondi Johnson, Mendy Johns, Ashley King, Michael Long, Synthia Massey-Gray, Jeremy McCoy, Hayley Meadows, Zachary Moores, Jeffrey Paro, Jeremy Parrault, Theotis Purifoy Jr., Trence Rogers, Christopher Sampson Jr., James Schooley, Daniel Spath, Emmanuel Thomas Jr. and Erica White.
Willis S. Sargent award went to Mabel Ebot of the Ouachita River Unit. Pictured from left to right are Danny Burl, Fred Campbell, Mabel Ebot and Randy Callas.

Class 2017-D
Class 2017-D graduated the Willis S. Sargeant Training Academy on April 4, 2017.
Frederick Adams, Eddie Allen, Steven Anderson, Brandon Armstrong, Skyler Blunt, James Bondio, Desiray Brady, Mary Butler, Karen Carver, Austin Coil, Dennis Coleman Jr., Derrick Daniels Jr., Staisha Davis, Charles Dunn Jr., Monika Evans, Krystal Gillespie, Miesha Hargraves, Kuyler Holmes, Keyundra Holyfield, Keandre Hudson, Heather Imboden, Shelia Janes, Tamaria Lea, Theodis McGhee, Sharon Miller, Toby Morales, Latrese Mosley, Kevin Neisler, Jordan Nunn, Drake Palmer, Katrlyn Punkett, Hunter Robertson, Amy Rogers, Ashley Savage, Candice Scofield, Cory Sharp, Logan Sherrill, John Smith, Felicia Taylor, Joshua Thornton, Shalinda Wade, April Williams, Latasha Williams, Michael Wilson and Destiny Barbine.
Willis S. Sargent award went to Heather Imboden of the North Central Unit. Pictured from left to right are Fred Campbell, Heather Imboden, Judy Taylor and Randy Callas.
Class 2017-C
Class 2017-C graduted the Willis S. Sargeant Training Academy on March 24, 2017.
Stephen Altom, Cody Andrews, Jackson Bates, Tyler Brewer, Wednesday Brooks, Sammy Caldwell Jr., Michael Chalk, Shakiyra Coleman, Kenneth Collins, Dyequen Crift, Blake Criner, Brian Curtis, Jacques Daniels, Randall Dutton, Alec Edwards, Lamonica Griffin, Brittney Gully, James Hamby, Hunter Harrell, Jasmine Harris, Joshua Harrison, Chelsea Hastings, Kenneth Hodges Jr., Justin Hunter, Shaquilla Jackson, Teresa Johnson, Michael Johnson Jr., Jasmine Jones, Maurice Jordan, Caleb Kincaid, Terry Kingdom, John Klewicki, Leah Lane, Sandra Lee, Brianna Lockett, Deshundrick Mays, Dakota McCranie, LaWanda McFadden, Jasmine Monk, Patricia Morgan, Phillip Morgan, Raymond Nehring, Timoty Owen, Sarah Perez, Jamisha Phillips, Letha Phillips, Steven Poole, Michael Pruden, Tyler Pruitt, Christopher Ramey, Misael Ramos, Shanesia Richardson, Harold Riggins, Cory Roberts, Amanda Scudder, Michael Shamoon, Tajee Shannon, Dereck Shelby, William Smith, Andrew Southern, Antonique Stewart, Steadman Thomas, James Thomas Jr., Genaro Villa Jr., Lakeicha White, Douglas Woods, Francis Wooten, Jessie Wooten, Olevia Young.
Willis S. Sargent award went to Stephen Altom of the Grimes Unit. Pictured from left to right are John Wheeler, Fred Campbell, Stephen Altom and Randy Callas.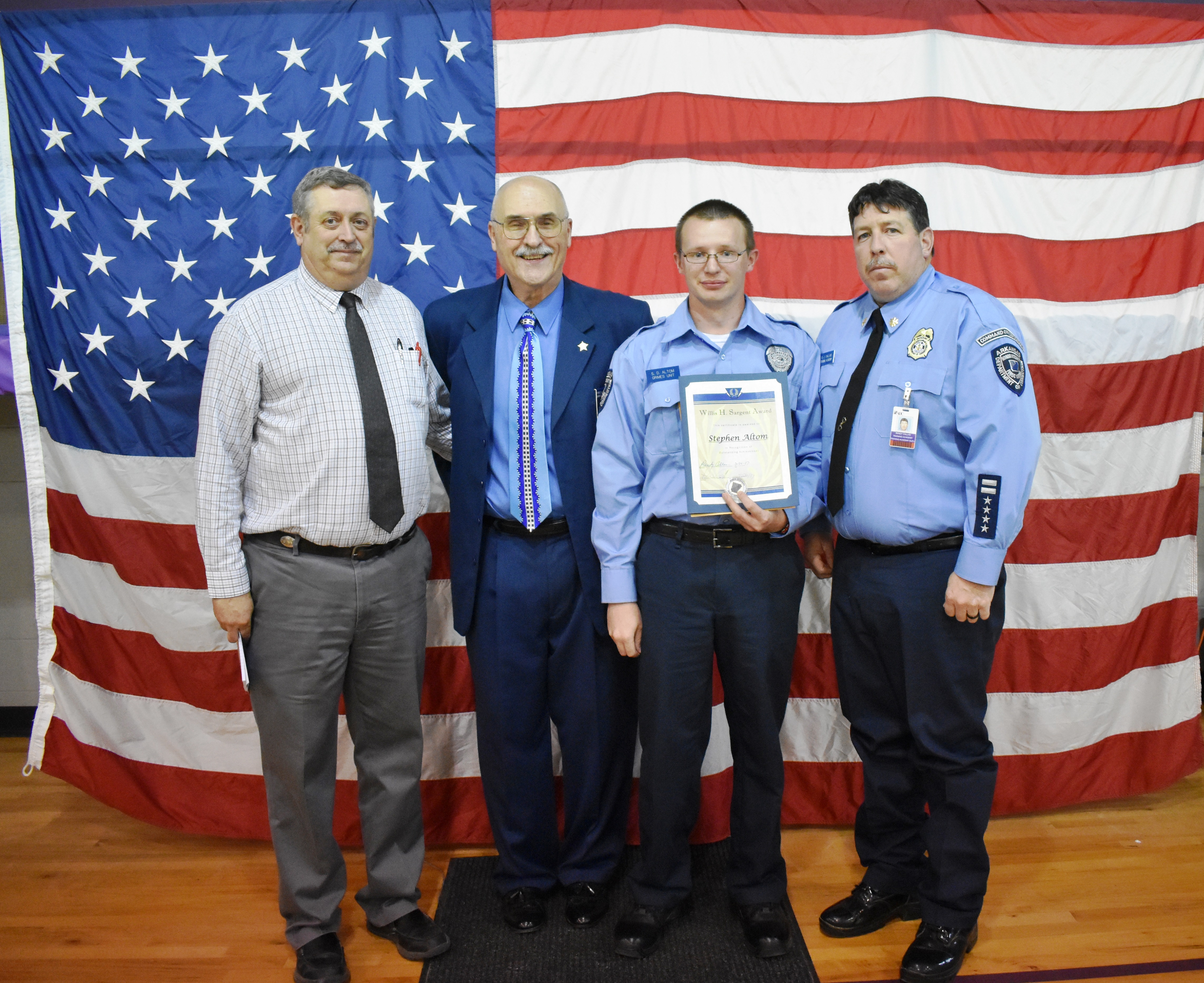 Class 2017-B
Class 2017-B graduated the Willis S. Sargent Training Academy on Mar. 3, 2017.
Tradarious Adkins, Michael Armstrong, Robert Arnett, Catherine Arnold, Charles Barnes, Kennedy Barron, Demetrice Betties, Jared Carter, Tryvarious Cole, Ladarius Daniels, Matthew Daniels, Zachary Dillard, Jimmy Dixon, Thomas Fenske, Nathanial Garland, Christopher Garrett, Chester Gosnell, Joseph Gray, Sherika Grider, Jaleesa Harroway, Antoinette Hawthorne, Latasha Haynes, Ryan Hennessey, Arriston Higgins, Jeffery Holder, Imani Jackson, Christin Lamkins, Jeremie Lewis, Latreona Lindsey, Joslyn McEwen, Kyrstal Moore-Reynolds, Cynithia Morgan, Evan Nally, Jerwanna Patton, Alvin Perry, Colton Phillips, Troy Reed Jr., Cassandra Richarson, Destiny Riley, Chelsea Shipman, Monterio Shorter, Jarvis Stout, Katherine Tate, Brittany Taylor, Marquis Taylor, Alvaro Velazquez, Ebony Washington, Decarlo White, Ethen White, Chauncen Williams, Lisa Wilson, Melissa Winston, Robin Woods, Naomi Young,
Willis S. Sargent award went to Robin Woods from the Maximum Security Unit. Pictured from left are, Randy Callas, Jared Byers, Robins Williams and Fred Campbell.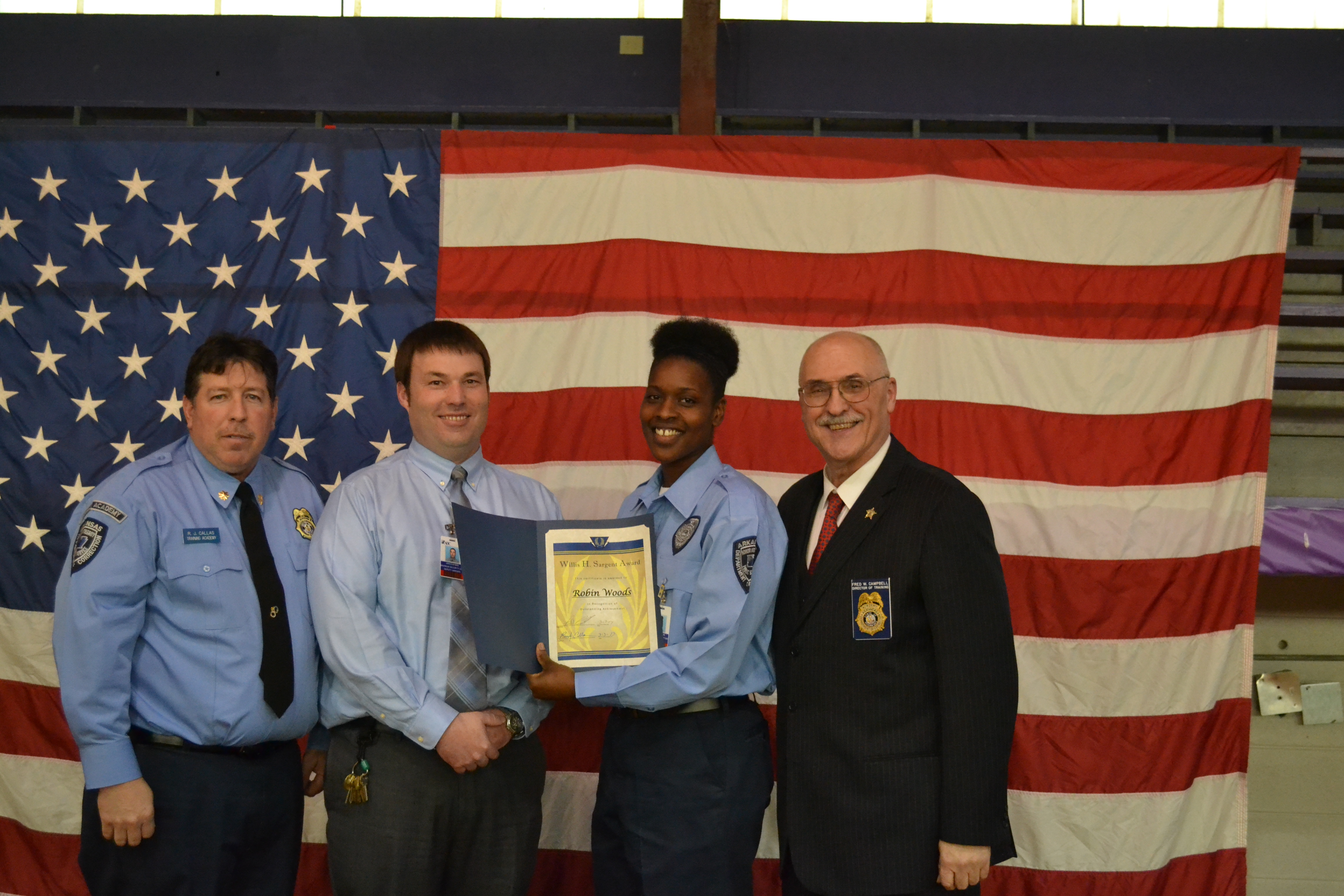 Class 2017-A
Class 2017-A graduated from the Willis H. Sargent Training Academy on Feb. 10, 2017.
Steven Baker, Cashanna Beckton, Deshrae Bennett, Jasmin Boswell, Xavion Brewer, Jenna Cepe, Roberto Cisneros-Guevara, Jerry Cobb, Dustin Cole, Dedra Coleman, Amber Colson, Aaron Cooper, Sharon Culclager, Alexander Degrasse, Reann Dick, Colton Dixon, Lindsey Dooley, Bradley Ellis, Laura England, Natalie Fulton, Trentell Goodman, Reneya Grayson, Courtney Green, Sequoia Green, Christopher Hall, Robert Hall, Jeremiah Hardwell, Micheal Hicks, Erika Hines, Vercedes James, William James, Chelsea Johnson, Davaughn Johnson, Kdreona Kemp, Charles Krontz, Demarcus Lewis, Vanessa Marks, Jalyn Mayweather, Matthew McClellan, Blake McNew, Timmy McNew, Jarrin Meadows, Kennisha Milligan, Angela Moon-Washington, Kevin Moore, Terrell Murry, Tamara Parker, Tiffany Price, Xavier Pruitt, Bryce Rawls, Trevor Rowland, Kendra Rowlett – Parker, Gregory Sands, Jacob Shirley, Krishna Stokes, Ricky Thurman, Danisha Toney, Clarence Turner, Crystal Vann, Aubrey Walker, Patrick West, Christopher Williams, James Williams, Michelle Williams, Calleaner Wilson, Melanie Wood
Willis H. Sargent award went to Jerry Cobb, McPherson Unit.

Class 2016-E
Class 2016-E graduated from the Willis H. Sargent Training Academy on May 6, 2016.
Graduates were Mallissa Ajimu, Joshua Allen, Trendia Bailey, Billy Bell Jr, Rebecca Boese, Georgianna Booker, Aram Bowers, Chelsea Bradshaw, Jayme Brandenburg, Carl Brown Jr, Charles Catlett, Takia Coger, Leslie Cothren, Ranisha Daniel, Wesley Davis, Gloria Dodd, Brooke Dooms, Robert Ellis Jr, Paul Hansberry II, Lathan Harris, Cody Harris-Wooten, Scott Jenkins, Alicia Johnson, Tyler Langston, Justin Lewis, Isaac MacKlyn, Robert Mason, Payton McAdams, Shannon McFarland, Ashea McKissick, Jared Mitchell, John Moss, Tyler Payne, Jasmine Price, Starlisha Pride, Darrenisha Redden, Aaron Renigar, Octavia Rustin, Malisha Scott, Zachary Siler, Trudaya Simpson, Kaylon Smart, Kalah Smith, Kimberly Steward, Deiccia Taylor, Irvin Tisdale Jr, Jordan Tripp IV, Tammie Updike, James Vasquez, Ashley Wesson, Alexander Whitman, Edward Young, and Robert Young.
The Willis H. Sargent winner was Edward Young, Ouachita Unit. Pictured are Randy Callas, from left, Randy Shores, Young, and Fred Campbell.

Class 2106-D
Class 2106-D graduated from the Willis H. Sargent Training Academy on December 18, 2015.
Graduates were Jacob Austin, Deborah Batson, Devanta Brown, Miranda Caldwell, Marcus Caskey, Bobbie Catlett, Joshua Depew, Traci Dorn, Caleb Downing, Teketha Dunbar, Antonio Echols, Jessica Farr, Johnisha Graham, Kevin Granderson, Camry Grant, Candace Howell, Blake Hughes, Tyler Jackson, Bryan Johnston, Scott Jones, Cleveland Jones, Justin King, Charles Lawson, Christopher Pelley, Jimmy Poss, Keziah Rodgers, David Shinn, Briana Smith, Ryan Thompson, Tyler Waldroup, Kashima Williams, Carl Wilson, and Angela Wright.
The Willis H. Sargent winner was Miranda Caldwell, Bootcamp. Pictured with Caldwell, middle, are Randy Callas, left, and Benton Unit Major Derwin Metcalf.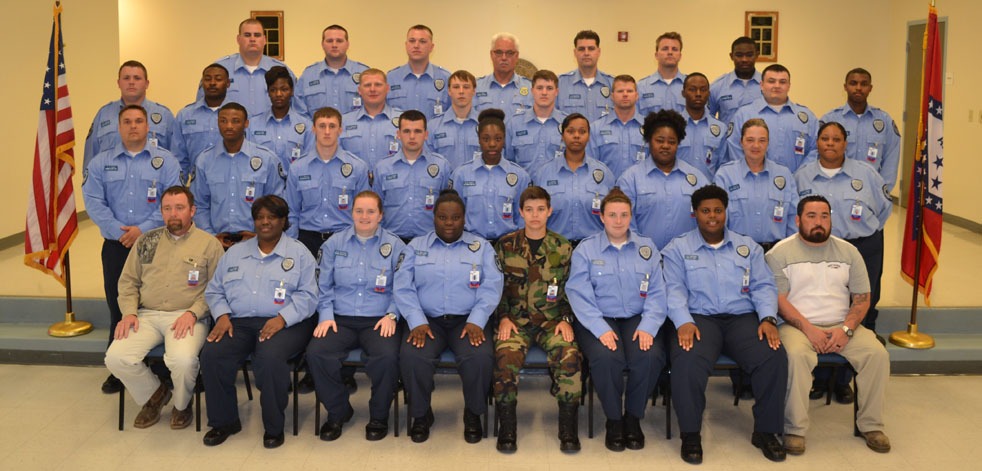 Class 2016-C
Class 2016-C graduated from the Willis H. Sargent Training Academy on March 25, 2016.
Graduates were Brandon Adams, Hunter Allen, Christopher Bennett, Jaylon Brown, Kristen Brown, Shanna Brown, Niklas Buzzard, Samuel Caldwell, Armani Cotton, Jasmine Davis, Amanda Detwiler, Lexis Fisher, Renee Garfield, Cameron Goins, Camry Grant, William Gregory, David Hatton, Regie Hayes, Carolyn Haynes, Ta'Mara Higgins, Marvin Hollingshead, Johnisha Jackson, Gwendolyn Jallow, Lemetrea James, Lavonte Johnson, Ashley Jones, Tamera Jones, Moesha Jordan, Chadd King, Allison Lane, Temetris Madden, Christopher Marcel, Cannon McCraw, Sunkasha Means, Breyunna Mitchell, Cody Moss, Raven Rafter, Jayveon Sessoms, Larry Simmons, Joseph Stephens, James Thompson, Mariah Tillis, Valencia Wheatley, Cody Williams, David Williams, Ledale Williams, and Joshua Willis.
The Willis H. Sargent winner was Jayveon Sessoms, East Arkansas Regional Unit. Pictured are Randy Callas, from left, Warden Nurzuhal Faust, Sessoms, and Fred Campbell.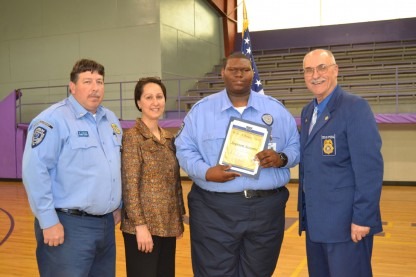 Class 2016-B
Class 2016-B graduated from the Willis H. Sargent Training Academy on March 4, 2016.
Graduates were Jacob Aldrich, Brett Baker, Starr Barron, Cadaisha Bell, Paul Boykin, Joshua Brewer, Ebony Brown, Jacqueline Buterbaugh, Gilbert Byrd, Latasha Coleman, Zackary Coleman, Kie-Aire Collins, LaQwonia Collins, Aujanaye Coulter, Deandre Craig, Carson Cunningham, Amanda Cutler, Remona Davis, James DeBerry, Vivian Drummond, Aerial Dunn, Dustin Durfee, Lakisha Eaton, Brendan Edmonds, Cory Edwards, Brandy Elliott, Jacob Fay, Fatima Flenoy, Quiana Forte, Myles Franklin, John Gipson, Angie Granville, Keyunda Green, Tamara Gulley, Kyle Henley, Lorenzo Heredia, Tiesha Johnson, DeUntae Jones, Briana King, Terry King, Stephanie Lachance, Trevor Langford, Arnold Lowery, Amber Medders, Dwight Merrill, Andrew Miller, Anthony Minick, Briuna Moore, Thomas Noel, James Ochello, Ronesha Oliver, Hunter Parson, Anthony Parsons, Kevin Pierce, CeAaron Plummer, Trevor Ragan, Matthew Scott, Victoria Sharp, Lolita Shepard, Senyoul Steen, Taylor Surveyor, Valencia Swopes, Michael Thomas, Quaydria Thomas, Danny Thornsberry, Michael Wade, Khanesha Webb, Jasmine West, and Jared Womble.
The Willis H. Sargent winner was Gelbert Bird. Pictured with Bird, middle, are Deputy Warden Anthony Jackson, left, and Fred Campbell.