Class 2017-O
Class 2017-O graduated the Willis H. Sargent Training Academy on 11/17/2017.
Members of the class included: Ricky Addington, Kyonna Anderson, Remington Barnett, Tammie Benard, Cedric Bolton, Jacqueline Bonds, Dorothy Boyd, Jennifer Burks, Timmy Burks, Calisha Campbell, Rosemary Carter, Tabitha Crater, Meshia Evans, Sharnise Ford, Raymond Govan Jr., Billy Hall, Steven Hardush, Monique Harper, Tonnie Humphrey Jr., Jobe Hurst, Shirley Jennings, Nathanael Johnson, Tyrone Johnson, Waverly Johnson, Jerel Jones, Maurice Killingsworth,Christopher King, Candra Linell, Ellis Luckett, Ty May, Davanta McCoy, Corey McTigrit, Timothy Milner, Keith Monroe, Corey Montgomery, Charles Morgan, Selena Nauden, Jordan Neal, Jasemine Page, Zachary Paine, Jessica Phillips, Russell Prater, Austin Pratt, Janice Prewitt, Anzechia Reeves, Jacob Richerson, David Ruffin, Felixia Sardin, Bailey Smith, Briana Smith, Hunter Standridge, Bryan Steakley, Rashidah Strickland, Maria Sykes, Shanquita Taylor-Lucas, Mario Trobradovic, Amy Vance, Corionne Washington, Christopher Weston, Natalie Wilbert, Jeffery Wolf, Julie Womack, Gregory Womble, Carmeshia Wright and Harrell Yarber.
Class 2017-N
Class 2017-N graduated the Basic Correctional Officer Training (BCOT) at the Willis H. Sargent Training Academy on October 27, 2017.
Class members included: Terry Allen, John Anderson, Fredrick Ash, Diane Bailey-Robinson, William Beebe, Jacquin Benson, William Berry, Shalonda Buckner, Shadreika Burnice, Jamal Burns, Joseph Cooper, Harley Cotton, Dorsie Croom, David Duckworth, Shacari Evans, Keyton Flenoy, Gene Franks, Ebony Graham, Markeyia Gray, Felicia Hatcher, Tyler Hinton, Fredricka Holton, Dwight Johnson Jr., Jerri Johnson, Ja'Niece Jones, William Joslin, Versie Lambert, Dusty Leslie, Christopher Mariott, Robin Mayweather, Charles McArtor, Daphne McCoy, Eddie McDade, Hunter Morales, Brionna Nelson, Jeremy Patton, Cynthia Penn, Jonathan Petty, Lanita Pruitt, Laura Raney, Ryan Roberts, Derrick Taylor, Tiffany Thompson, Tracy Titus, Nazhae Traylor, Maria Tripp, Tiffanie Vanzandt, Tawanna Washington, Walter Washington, SyDerrick Watson, Wayne West, Dakota Westerfield, Nathan Williams, Roy Williams.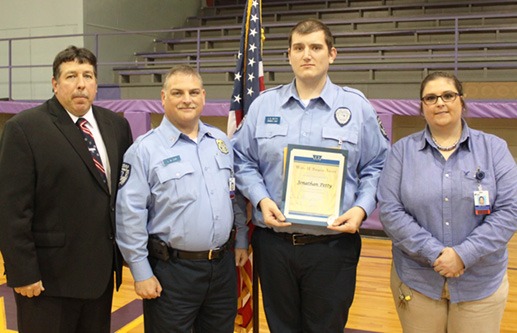 Jonathan Petty was awarded the Willis H. Sargent Award. Pictured with Officer Petty from left to right is Randy Callas, Larry Cyr and Misty White.
Class 2017-M
Class 2017-M graduated the Willis H. Sargent Training Academy on October 6, 2017
Chase Arnold, Tyra Atkins, LaShay Ball, Justin Barbee-Smith, Chasity Bell, Malika Buchanan, Tyler Burgett, James Capdeville, Daniel Cartwright, Travesha Collins, Tammy Cook, Lacretia Davis, Traveus Dawkins, Gabrielle Foster, Edward Gulley, Shelisa Harris, Peyton Herrell, Gaylen Hill, Shanita Jenkins, Carvis Johnson, Melvin Johnson, Cortney Kellar, Constance Kinney, Desirea Kirklin, Edward Lamb, Ja'Manda Love, Isaac Lowe, Markail Manns, Christopher McCord, Katie Milner, Dangelo Motley, Porshe Neyland, ReGine Parker, Shiamayia Peacock, Adam Peek Jr., Chance Phillips, Curtis Price, William Prichard, Gavin Prince, Nichole Qualls, Nathaniel Reed, James Shaw, Cedric Skinner, Sharkaru Smith, Jessica Thomas, Timothy Thomas, Shjiro Tims, Taiwon Trotter, Bianca West and Ronald White.
James Capedeville received the Willis H. Sargent award. Pictured with Office Capedeville is Captain Latisha Davis and Major Kennie Bolden.
Class 2017-L
Class 2017-L graduated the Willis H. Sargent Training Academy on August 22, 2017.
Shameka Baker, Taja Bethley, Christopher Brock, Courtney Brooks, Spencer Brown, Norman Byrd, Ashley Campbell, Timothy Cash, Joshua Caudell, Brenda Ewards, Richard Faulkner, Felicia Flenoy, Gregory Freeman, Joseph Gentle, Kaneshia Goins, Patricia Horton, Veronica Irby, Betty Jackson, Anyana Johnson, Marvin Jones, Henry Jynes, Abedel Karimou, Shawn Key, Ryan Kluever, Pierre Long, LaTawnya Lucas, Angelina Mangum, Michael Mattox, Emma McClenahan, Latasha Millbrook, Bryan Miller, Frank Milsap, Tess Millward, Ethan Morley, John Norton, Lilnetria Oneal, Jesse Parker, Brianne Perkey, Alvinness Peterson, Antonio Pleasant, Brandi Porter, Leon Randle, Chrystal Ridley, Erin Rogers, Kyler Rouse, Tia Smith, Destiny Speed, Kenyetta Spratt, Tyyana Stideum, Trevor Sutton, Keith Vaughan, Marquis Weathersby, Leslie Winemiller, Tristan Wolfe and Rose Wright.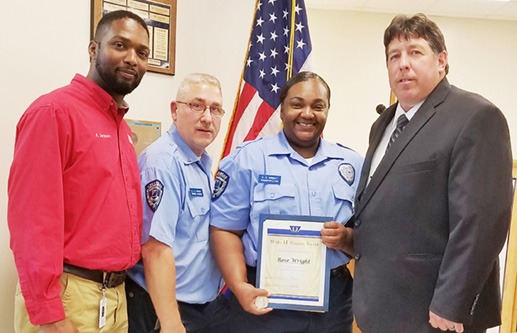 Rose Wright from Transporation recieved the Willis H. Sargent Award. Pictured from left to right with Officer Wright is Anthony Jackson, David Farrier and Randy Callas.
Class 2017-K
Class 2017-K graduated the Willis H. Sargent Training Academy on August 25, 2017.
Iquari Bankston, Melia Barnett, Jeremy Bentley, Tammy Bivins, Timothy Black, Kayla Bradley, Casey Briggs, Jeremy Brown, Dennis Brunson Jr., Angel Carr, Chasity Carrothers, Wyeth Champon, Thomas Childs Jr., Alicia Clark, Pamela Crawford, Chyna Crowley, Lorell Doke, Kierra Dorn, Charlie Dorsey Jr., Fabian Drayton, David Dykes Jr., Jalessa Easter, Kawaski Flanagan, Lynndia Foster, Lavette Friar, Viola Frost, Dillion Gamble, Ashley Gordon, Kantrelle Grainger, Martino Green, Jlexxius Harris, Timothy Harris Jr., Joshua Hatch, DeQuan Haywood, Lynette Heard, Felicia Horton, Collin Hunter, Joshua Jackson, Dillan Jennings, Adreka Johnson, Ronishia Johnson, Shelia Johnson, Heaven King, David Lambert, Jasmine Lanos, Jamie Leak, Rebecca Lopez, Roosevelt Love III, Gage Lynch, Trenton Marler, Roshonda Martin, Tacarra McAdory, Cadijah McCaskill, Lakeldrick McGuire, Imani Mitchell, Kevin Mixon, Tyanna Montgomery, Courtni Morris, Sharonda Murphy, Tycarius Nolen, Katrina Parish, Lanaffriah Parker, Tatiana Phillips, Ashley Pike, Alexus Reams, John Scott, Kierra Scott, Tieasha Simmons, Shekinah Smith, Quendelaka Spears, Stacy Spraglin, Carol Strickland, Brandon Thomas, Steaira Thomas, Vaneshia Thrower, Sean Tomlinson, Tarrike Turner, Brittany Walter, Jesse Willey, Kenneth Williams Jr., Jalen Winfrey, Toni Winston, Tierney Woods and Donyelle Wyrick.
The Willis H. Sargent Award went to Lanaffriah Parker from the East Arkansas Regional Unit.
Class 2017-J
Class 2017-J graduted the Willis H. Sargent Training Academy on August 18, 2017.
Fantasya Allen, Kimberly Anderson, Rosetta Anderson, Pearlie Blunt, Brandon Bridges, James Brown Jr., Laquinta Bullard, Trendell Burnett, Maritza Caver, Anesia Childs, Dakayla Clayton, Jaylen Crutchfield, Dorothy Dixon, Latekqua Frazier, Angela Gipson, Miguel Gomez, Antonio Gomez, Harrison Hampton, Latrice Harris, Mattie Harris, Chiquita Hearns, Yanna Hitchcock, Tornesha Holloway, Joe Howard, Hannah Hurst, Ernest James, Sharita Jasper, Darryl Lawhon, Kelvin Leflore, Marcos Madrigal, Vetis Malone, Jarrius Marshall, John Martin, Samantha Matkins, Christopher McElroy, Virgil McNeil, Samantha Messick, Sandford Messick, Janis Mezel, Jasmina Morton, Zachary Moss, Kyle Noel, Latonya Odom, Shontrell Payne, Dennis Pennington, Trina Ray, Melissa Reynolds, Moneka Richarson, Terreondrik Robinson, Linda Scott, Bradley Seymore, Kieaira Sims, Davionna Splunge, Zackery Wilks, Jonathan Williams, Marissa Williams and Nora Winkles.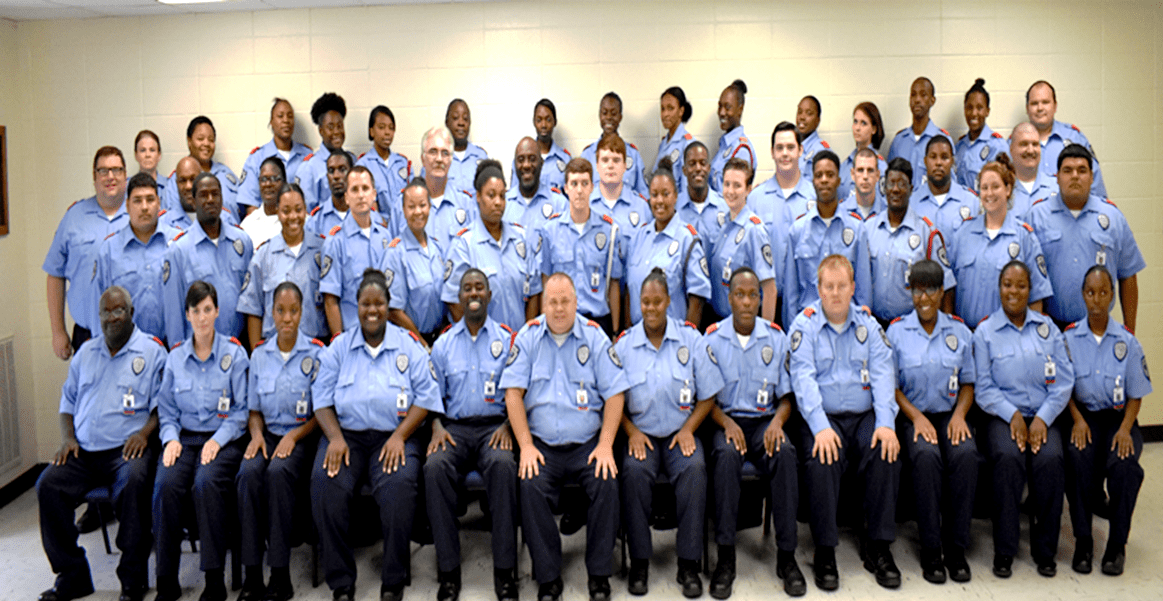 Dorothy Dixon from the Varner Unit won the Willis H. Sargent Award. Pictured with Officer Dixon is Randy Callas and Toni Bradley.
Class 2017 Cummins-A
Class 2017 Cummins-A graduated the Willis H. Sargent Training Academy on August 8, 2017.
Erica Askew, Kevin Bledsoe, Shakedra Boatner, Moniqua Brown, Robert Byrne, Danielle Carrington, Marquavius Cross, Cornelius Evans, Kamilah Fox, Cameron Gaylord, Marquette Gill, Paris Green, Shawnessy Jackson, Kayla Joyner, Shardae Jung, Lashondra McKinzie, Shawnta Rauls, Tommie Robinson Jr., Latierra Slater, Stephon Smith, Malik Thompson, Brynesha Turner and Sancheze Watkins.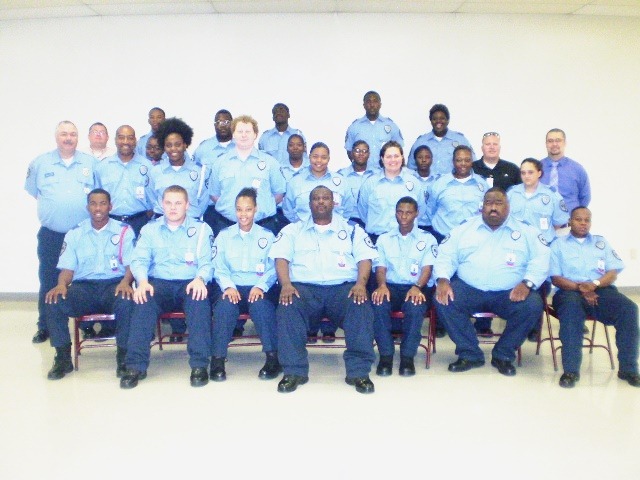 Tommie Robinson Jr. from the Delta Unit won the Willis H. Sargent Award. Warden Gibson is pictured with Officer Robinson.
Class 2017-I
Class 2017-I graduated the Training Academy on July 28, 2017.
Leah Allen, Shondrique Allen, Chiquia Ballard, Breanna Barnes, Marvin Blackmon, Francis Cameron, Richard Campbell, Larry Canterbury, Leola Caster, Perry Colburn, Katherine Coleman, Sarne Cooper, Jeffery Cross, Amanda Davis, Tyron Donaby, Michael Dow, Bryan Dreier, Carlos Espino, Amy Esters, Marlissia Esters, Natasha Fielder, Holly Fowler, Paige Garcia, Colton Garner, Taelor Gonder, Janah Hymes, Hunter Jackson, Kennedy Jackson, Tommy Jackson, Steven Johnson, Donna Knight, Marti Leslie,Charie Litzsey, Michael Loggins, Talana Massey, James McCall, James McCullough, Whitney McElroy, Billy McKinney, Kristinna McKnight, Johnathon Miller, Joshua Milligan, Anuar Morales, Laicardaizshia Motton, Shamita Motton, Denterrious Palmer, Corenthia Parker, Cedric Pledger, Whitney Pledger, Amanda Prine, Deshundria Ray, Kendyl Richardson, Tristan Savage, Kendaesha Seuell, Braxton Sherrill, Ryan Siegel, Dakota Smith, Jacob Swaller, DeShun Thomas, Shemela Thomas, Charles Watson, Shelby Watson, Gregory Watts, Colby Weymouth, Alexuss White, Talisha White, Romalis Whitmore, Demarcus Wilbon, Jaymes Wilcox, Rico Williams, Tracee Williams, William Williams, Rodrich Wilson and Willie Young.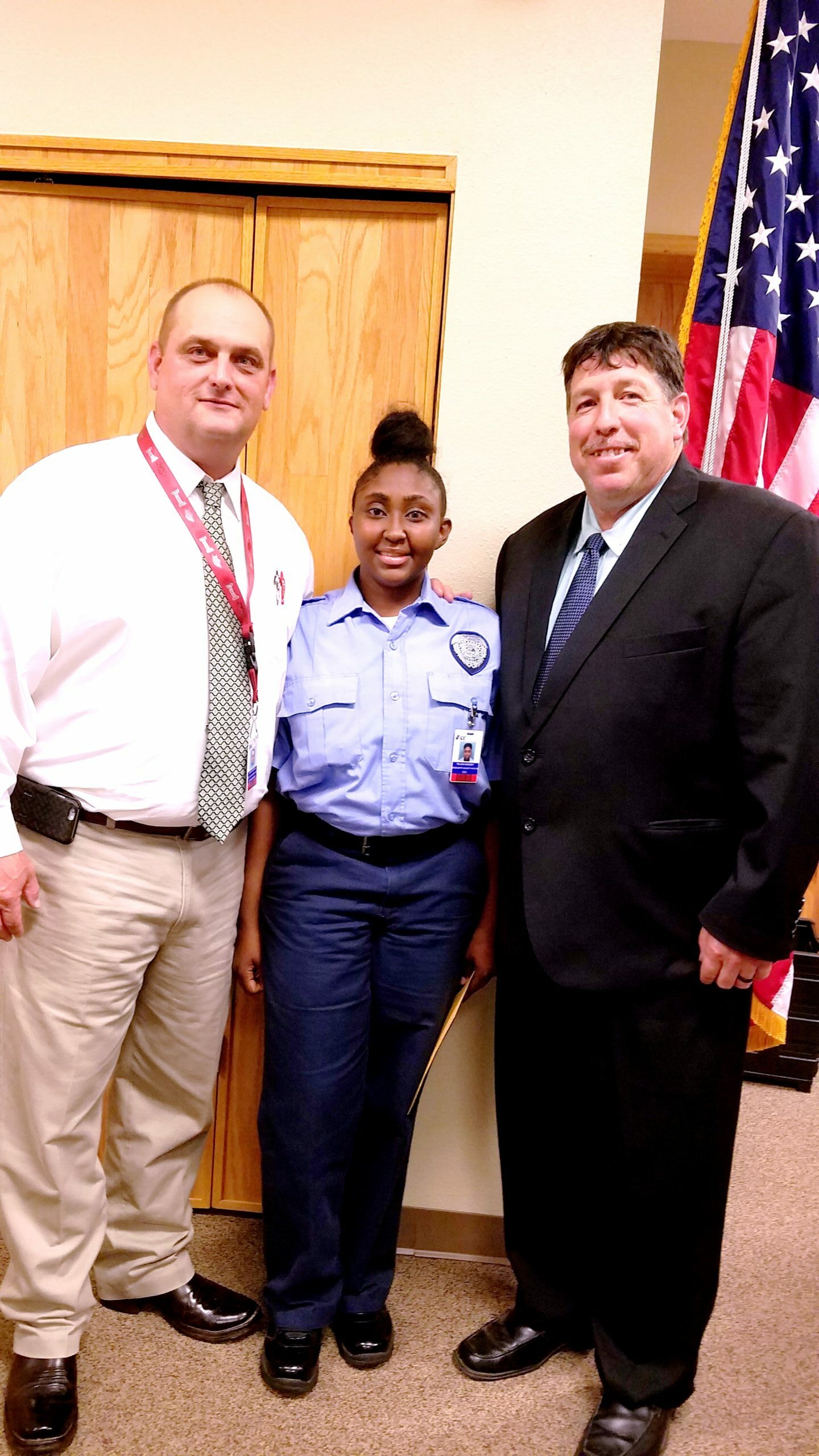 Talana Massey from Mississippi County Work Release Center won the Willis H. Sargent award. Pictured with Officer Massey is Randy Callas and Jeremy Andrews.
Class 2017-H
Class 2017-H graduated the Willis H. Sargent Training Academy on July 7, 2017.
Brandon Anderson, Stacey Barker, Curtis Barrett, Ashia Bean, Stefan Beard, Jameka Brown, Laraven Canada, Jacob Carr, Lindsey Carter, Mary Cary, David Chatman, Garrett Coley, Colt Corbell, Ivy Craig, Devonta Davis, Misty Deaver, Pedro Delgado, Jalen Frasure, Brandi Fry, Kyle Gibson, Precious Goodwin, Charlie Grice III, Jazmine Haynes, Brianna Jackson, Dasha James, Mityra James, Emanuel Jernigan, Franklin Jiles Jr., Talaya Johnson, Cheyl Kazlaskas, Peter Kazlaskas, Jensine Kissinger, Nicolas Ladd, Jaleeah Libbett, Ameca Lopp, Devine Maiden, Morgan Mann, Terrance Mason, Darrish Massey, Mikalah McGuire, Joshua McQueen, Keith Murry, Danielle Norment, Chester Owens III, Tony Pierce, Shanequa Ray, Chad Robinson, Justin Simmons, Damarious Stevenson, Robert Thompson, Solomon Tobi, Kiesha Toney, Travious Wade, Zachary Waleszonia, Timbuya Wells, Azzie Woods.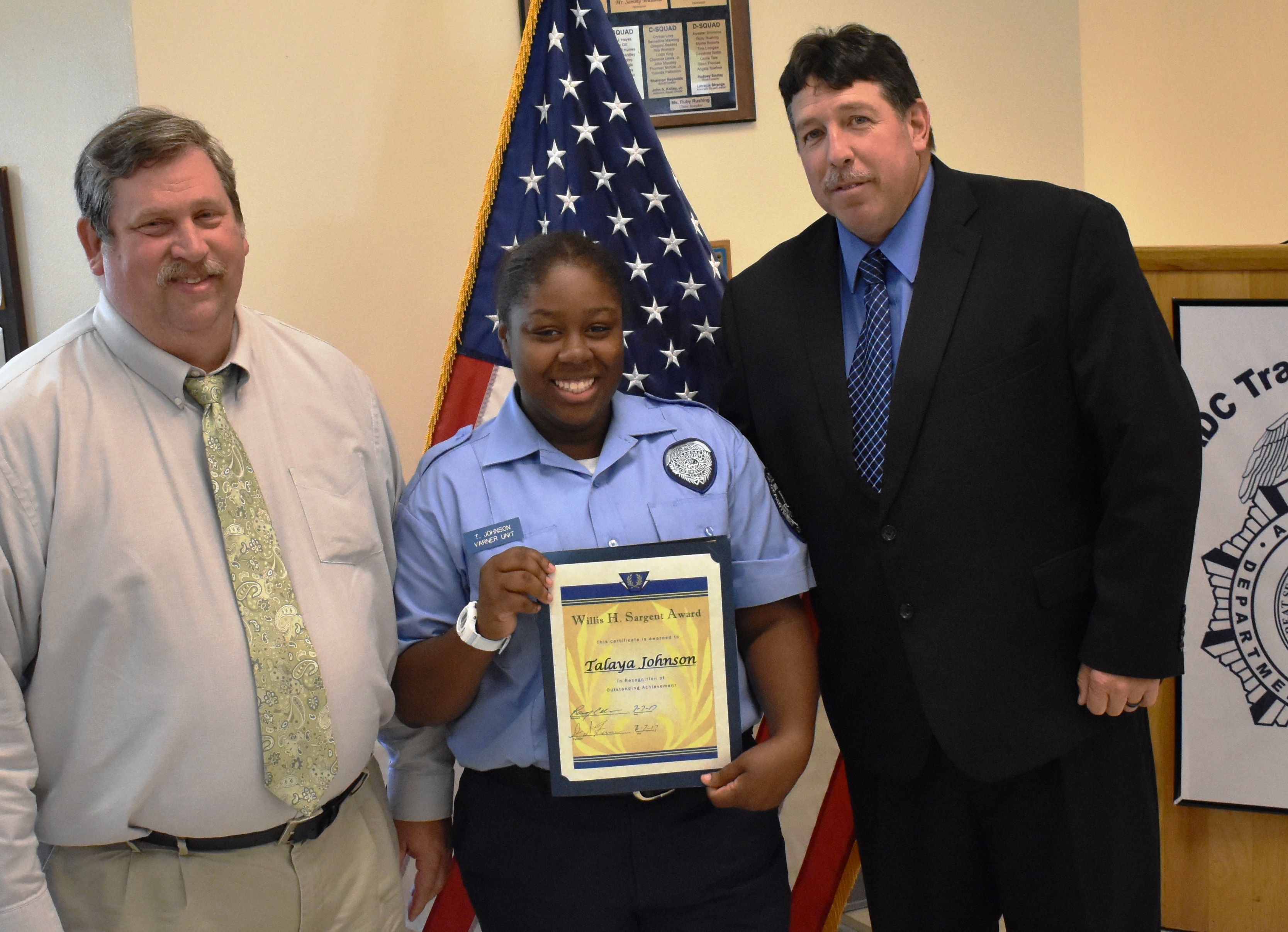 The Willis H. Sargent Award went to Talaya Johnson from the Varner Unit. Pictured with Officer Johnson is Randy Watson and Randy Callas.
Class 2017-G
Class 2017-G graduated the Willis H. Sargent Training on June 6, 2017.
Tonya Bailey, Marshika Ball, Curry Branham, Tre Brown, Brandeisja, Thomas Byers, Austin Chamlee, Kendall Clark, Kamelia Crater, Desiree Cypheus, Deorah Dieterich, Kenny Edwards, Jakob Elliott, Esmeralda Fraire, Kimberly Greenlee, Valarie Guyton, Jenia Halley, Brandon Harris, Ashley Haymon, Kara Hendrix, Jakyra Hilson, Tamarcus Howard, Joseph Hunter, Antonio Iverson, Matthew Jackson, Ciara Jarmon, Damion Johnson, Dasmine Johnson, Jessie Jones, Jermie Keys, Kody Kimbrell, Carolyn Linsy, Charles Love, Jacob Luther, Edward Malone, Adrian McNutt, Cody Meeks, Florisha Miller, Raven Moore, Steve Moore, Ernest Pectol, Quendarius Pious, Jermonica Powell, Cody Reed, Richard Rodriguez, Joseph Schultz, Vivian Sith, Carmalith Snider, Kevin Steele, Demetra Sykes, Tommy West, Jesse Williams, Quinella Williams, and Xavier Young.
The Willis H. Sargent award went to Valarie Guyton from the Ouachita River Unit. Pictured with Officer Guyton are Tommy Rochelle, Fred Campbell, and Randy Callas.